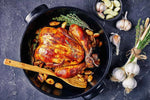 40 Cloves and a Chicken is an easy & delicious dish for the entire family.
Ingredients
40 cloves of Gilroy Garlic
1 Whole Chicken
1/2 Cup Olive Oil
10 Sprigs of Thyme
Salt & Pepper
Steps
Preheat your oven to 350

°F

Season chicken with a light coating of olive oil and salt & pepper.

Brown the chicken on the stovetop in a Dutch Oven.

Once both sides are browned remove from heat, add 1/2 cup olive oil, herbs, and garlic.

Cover the dutch oven and bake for 1 1/2 hours.


Remove from oven, let cool, and enjoy.
So the original version of this is actually a Chicken Provençal by James Beard and includes 1/4 teaspoon of Nutmeg, and 2 tablespoons of dry vermouth.  You can add dry vermouth or white wine as you see fit.  We'll post our own Gilroy Garlic Chicken Provençal over the next couple weeks.